Chicken Kosha Recipe is a beloved traditional dish, that holds an important place in Bengali cuisine. It has a rich history linked to the royal kitchens of Bengal. The dish originated during the British colonial period and has since become a staple in Bengali households.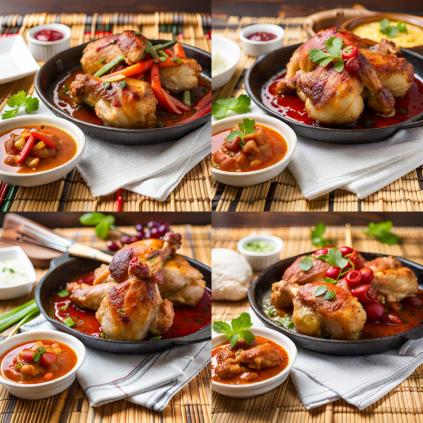 Every Bengali family celebrates Sunday as a special day. While special occasions call for delicious food, a Bengali needs a Bengali Chicken Kosha Recipe with Hot Rice on a Sunday holiday.
In this blog, you will learn how to make the perfect chicken kosha recipe and improve the preparation technique. There is no doubt that you will make yourself, your friends, and your family happy by trying this recipe in your kitchen.
Table of Contents
What is Chicken Kosha? Understanding Chicken Kosha Recipe
Chicken Kosha Recipe is a traditional method of cooking in Bengali cuisine in which the meat is slow-cooked to enhance the flavor. The word "kosha" describes the process of reducing the moisture content of the dish, resulting in a thick, flavourful gravy. This slow-cooking technique allows the spices to blend perfectly with the meat, bringing flavor to every bite.
Spices and ingredients are mixed to make the perfect kosh texture. Each spice ingredient plays an important role in enhancing the flavor of the dish.
Read More Also – 1kg Mutton Curry Recipe
Preparing the Chicken for the Kosha
While preparing chicken kosha, it is important to choose the right piece of chicken. A mix of both bone-in and boneless chicken pieces creates a balance of flavor and texture. Bone-in pieces add depth to the dish, while boneless chicken provides tenderness.
The traditional technique for marinating chicken involves a mixture of yogurt, turmeric, ginger-garlic paste, and ground spices. This marinade helps to enhance the flavor of the chicken and tenderize the meat.
Enhancing the taste with authentic spices.
Authentic spices are the key to getting the distinctive taste of a chicken kosha recipe. The secret spice blends used in kosha cooking include aromatic spices such as cinnamon, cardamom, cloves, and bay leaves. These spices add flavor to the dish and create a lovely aroma.
From the spiciness of Kashmiri chili powder to the aroma of cumin and coriander, each spice contributes a unique flavor to the dish. The exquisite taste and aroma combined with these distinctive spices make Chicken Kosha truly special.
Cooking Recipes for Chicken Kosha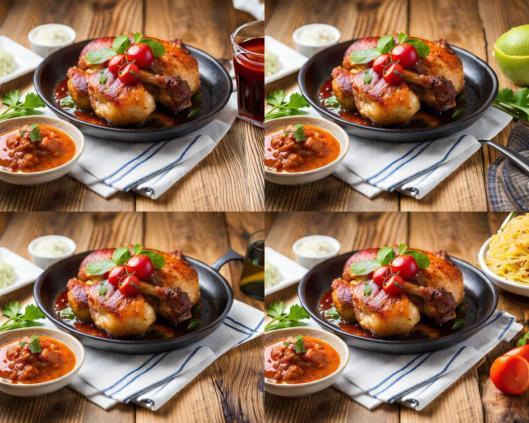 The traditional method of stovetop cooking is adopted to make chicken kosha recipe. It requires a patient approach and the art of slow cooking. Simmering the marinated chicken and spices for a long time deepens the flavor and softens the meat.
To get the right consistency, it is important to cook the gravy till it thickens and does not stick to the chicken. The slow cooking process allows the flavors to develop and intensify over time.
Various variations of stovetop chicken kosha exist, such as adding potatoes for more flavor or using mustard oil for a distinctive flavor. These variations give people the opportunity to customize the dish according to their preferences.
Alternatively, the Instant Pot or pressure cooker method provides a modern and convenient way to cook chicken kosha. This reduces the cooking time considerably while achieving the original taste of the traditional recipe. These steps are quick and easy, which makes this an ideal method for people with busy schedules.
Pairing Chicken Kosha with Traditional Accompaniments
Kosha Thali is incomplete without perfect accompaniment. Rice plays an important role in Bengali cuisine and goes exceptionally well with Chicken Kosha. The simple yet flavourful Basmati rice rounds out the flavor of the dish, adding sparkle to it.
Apart from rice, there are bread options to choose from to add to the rich taste of Chicken Kosha. Traditional options include Luchi, deep-fried bread, or puffed Bengali-style pulao.
Variations and Regional Adaptations
East Indian Chicken Kosha offers a unique twist to the traditional recipe. This Portuguese-influenced version includes vinegar and pungent spices, which give it a distinctive pungent flavor.
West Bengal has its regional variation of Chikan Kosha. This adaptation, known as "Kasha Mangsho", involves slow-cooking the meat with onion and tomato-based gravy. The addition of ghee and roasted spices enhances its flavor, making it a favorite dish.
Perfecting Chicken Kosha Gravy
The consistency of Chicken Kosha Gravy is important to get the authentic taste. It should be thick and full of flavor. Achieving the right balance of thickness and consistency requires patience and attention to detail.
To make the gravy taste better, it is important to simmer the chicken and spices, allowing the flavors to meld together as the moisture evaporates. This slow cooking process ensures that the flavor is intense and the consistency is thickened to perfection.
Tips and tricks for a flavourful gravy include using curd to bring out the spiciness, roasting the spices to enhance their flavor, and adjusting the salt and spice levels as per personal taste.
Serving and Garnishing Suggestions
The presentation technique enhances the flavor of the chicken kosha. Consider using traditional copper or porcelain dinnerware to show off the dish's vibrant colors.
Traditional garnishes like freshly chopped coriander leaves, ginger pieces, and a sprinkling of garam masala on top of the dish add flavor and aroma to the dish. These decorations not only add decorative appeal but also affect the taste of the chicken kosha.
A Journey Through Fragrances: Chicken Kosha and Its Aromatic Spices
Aromatic spices play an important role in chicken kosha, infusing the dish with a heavenly aroma. The perfect spice mix, combined with the slow cooking process, creates a symphony of aromas that elevates the eating experience.
The art of slow cooking allows the spices to release their aromatic oils, filling the kitchen with an enticing aroma. From the warm and woody notes of cinnamon to the citrus scent of cardamom, each spice has its unique aroma. Together, these spices create an aromatic treat that is a testimony to the subtle flavors of Chicken Kosha.
Health conscious customization
For those with dietary needs or restrictions, chicken kosha can be flavored to suit several needs. Health-conscious adaptations include using thinner pieces of chicken, reducing the amount of oil used, or substituting yogurt with a low-fat substitute. These modifications can be made without compromising on the taste and flavors of the dish.
Exploring healthier alternatives like coconut milk or almond milk can give chicken kosha a creamy texture and nuttiness. This versatile dish can be adapted to suit a variety of dietary needs, so everyone can enjoy its delicious taste.
Chicken kosha recipe for festivals and celebrations
Chicken Kosha holds a special place in Bengali festivals and celebrations. It is considered an important dish and is often prepared on happy occasions. festivals like Durga puja and Bengali weddings are incomplete without a chicken kosha recipe on the dinner table.
The succulent and flavourful dish symbolizes abundance and prosperity, making it special during festive feasts. It brings families together and creates a sense of togetherness in the community.
Read More Also – sitka salmon recipes
FAQs
What makes Chicken Kosha different from other chicken curries?

Chicken kosha stands out because of its slow cooking method, which infuses the flavor and creates a thick, flavourful gravy. What sets it apart is the specific combination of spices used in kosha cooking, which gives the dish a unique and complex flavor profile.
Is it necessary to use traditional spices for Chicken Kosha?

While traditional spices are preferred to enhance the authentic taste of Chicken Kosha, variations can be made based on personal preferences. The choice of spices can be adjusted to suit individual tastes, making the dish more versatile.
Can I use boneless chicken for the recipe?

Boneless chicken can be used for chicken kosha, but it is recommended to include bone-in pieces as well. The combination of both types of chicken adds depth to the dish and enhances the overall flavor profile.
How long does it take to cook chicken kosha?

The cooking time for chicken kosha may vary depending on the method chosen. Stovetop cooking requires about 45 minutes to 1 hour of slow cooking to achieve the right tenderness and consistency. The Instant Pot or pressure cooker method cuts the cooking time down to about 20-25 minutes.
chicken kosha recipe
Chicken Kosha Recipe is a beloved traditional dish, that holds an important place in Bengali cuisine. It has a rich history linked to the royal kitchens of Bengal.
Ingredients
1

kg

medium chicken pieces

2

pieces

potato cut into two pieces

4

big size onions finely chopped

2

big size tomatoes finely chopped

4

finely chopped green chilies

1

tsp

finely chopped garlic

1/2

cup

whipped curd

1

tsp

coriander powder

2

tsp

cumin powder

1

tsp

turmeric powder

2

tsp

red chili

2

tbsp

mustard oil

1

teaspoon

ground ginger

1/2

tsp

salt

1

teaspoon

Kashmiri red chili optional

Whole spices for tempering

1

inch

cinnamon

2

pcs bay leaf

1

tsp

black pepper

5

pcs green cardamom

5

pcs cloves

1/2

tsp

cumin
Instructions
Chicken Kosha Recipe Preparation (20 minutes)

Peel the potatoes and cut them in half.

Boil the potatoes in a covered pan or other container on high heat for 15 minutes. Alternatively, you can add a pinch of salt and boil the potatoes for 1 whistle.

Soak the cayenne and Kashmiri cayenne pepper in hot water for about 15 minutes according to the directions in "For the Ginger Garlic Paste."

Grind ginger and garlic, then chop onion.

Similarly, finely chop the tomatoes too.

Blend all the ingredients listed under "For the Ginger Garlic Paste" in a mixer to a fine paste.

Bengali Chicken Kosha Recipe (40 minutes)

Take a pan and heat it. During the entire cooking phase, maintain a medium flame.

Add mustard oil to it and wait until smoke starts coming out of the oil.

Fry the potatoes on medium heat for 5 to 10 minutes or until they turn light in color.

When smoke starts coming out from the oil, take out the potatoes from the oil.

Wait for 20 to 30 seconds till the flame slows down.

Add whole spices listed under "Whole spices for tempering".

Let the cinnamon, bay leaf, and black pepper cook for 10 to 15 seconds before adding anything else.

Add cloves, red chili, and cardamom, and mix well.

After 30 seconds add cumin seeds to it.

When the cumin starts crackling and the red chilies turn brown or black, add one spoonful of sugar.

This sugar should be caramelized.

As soon as the sugar starts to turn brown, add onions to it.

Immediately add coriander powder.

We add coriander powder immediately after the onions as it takes the maximum time to cook.

no fears; It has been tried and tested.

When the onion turns brown, add finely chopped green chilies and crushed garlic to it.

After stirring it well, add the prepared ginger-garlic paste to it.

When the onion turns brown, add chicken pieces to it.

Keep stirring occasionally to prevent the spices from sticking to the bottom of the pan.

After 10 minutes, add cumin and turmeric powder to it and stir well so that the chicken is well covered with the spices.

After cooking for five minutes, add curd to it.

Make sure the curd is whisked well before adding it to avoid curdling.

Keep stirring to prevent the curd and spices from sticking to the bottom.

When the chicken is about 80% cooked, add chopped tomatoes to it.

Cook while stirring it well.

When the tomatoes start becoming soft, add salt and potatoes.

Let the mixture cook for 5 minutes before adding sugar

Stir it well, then let it boil for a few minutes.

Bengali-style chicken kosha is ready

Keep the cell for 15 to 20 minutes.

Serve it with fried rice, poori, Luchi, rice, or roti.