If you want to make a special meal to impress your loved one, try the Marry Me Chicken Recipe with Pasta that will not only enhance your taste buds but will also win your heart.
This dish combines tender chicken, a creamy tomato sauce, and perfectly cooked pasta to create a medley of flavors that will leave you asking for more and make your dinners and special occasions memorable.
Let us know in detail about this delicious recipe.
Table of Contents
A love story in a plate
The origin of the "Marry Me Chicken" recipe is as captivating as its name. It is said that a lover once prepared this dish for his beloved in the hope that she would agree to marry him. The delectable aroma and taste of the dish was so irresistible that it worked like magic.
Although we can't guarantee that she will propose to you, we can assure you that it will be love at first sight.
Ingredients
For chicken:
4 boneless, skinless chicken breasts
Salt and pepper for seasoning
2 tbsp olive oil
2 cloves of garlic, finely chopped
1 teaspoon dried parsley
1 teaspoon dried basil
For Creamy Tomato Sauce:
1 tablespoon butter
1 small onion, finely chopped
1 can (14 oz) crushed tomatoes.
1/2 cup thick cream
1/2 cup chicken broth
1/4 cup sun-dried tomatoes, chopped
1/4 cup fresh basil leaves, chopped
Salt and red chilli pieces as per taste
For pasta:
8 ounces penne pasta
Freshly grated Parmesan cheese for garnish
How to Make Marry Me Chicken Recipe with Pasta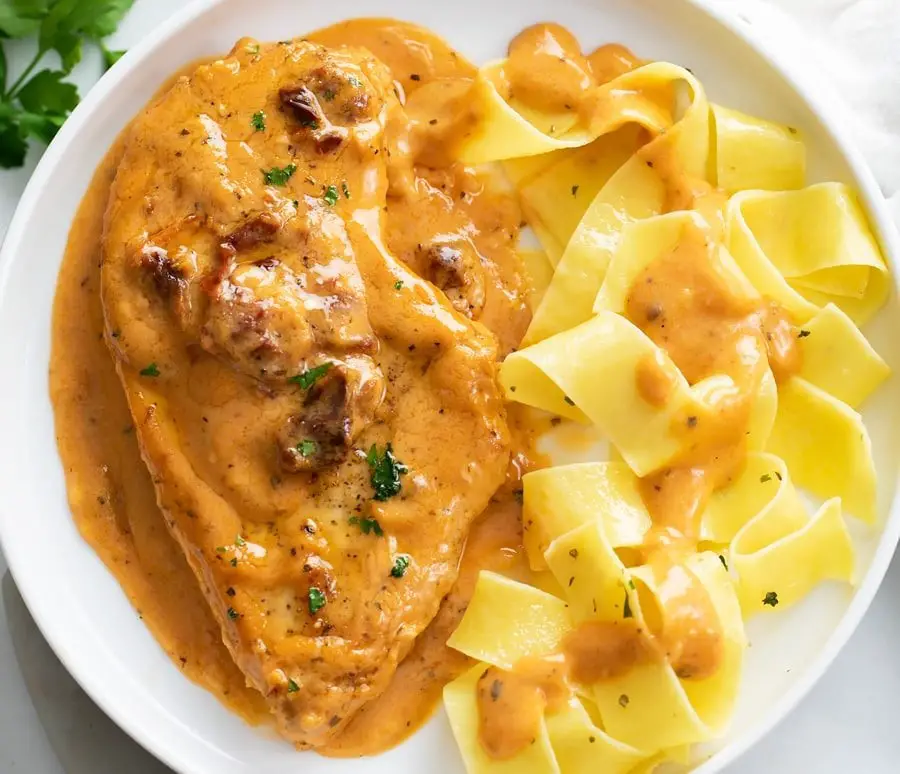 Preparing chicken
First, add salt and pepper to the chicken breasts.
Heat oil in a large pan on low flame.
Add the chicken breasts and cook for about 5-6 minutes until they are golden brown and cooked through.
Take out the cooked chicken from the pan, put it in a separate vessel, and keep it aside.
Making Creamy Tomato Sauce
Heat butter in the same pan and add chopped onion to it.
Fry the onions until they become aromatic and golden brown.
Now add minced garlic to it.
Add half-chopped cherry tomatoes and cook for 4-5 minutes.
Now add heavy cream, chicken broth, and dried basil.
Add salt and red chili to the sauce and mix well.
Add sun-dried tomatoes and grated Parmesan cheese,
Let it cook on low flame for 3-4 minutes till the sauce thickens.
Chicken and pasta mixture
Now add cooked chicken to the pan and let it boil in the sauce for 5 minutes.
Prepare the pasta according to package directions drain the pasta and set aside.
Garnish with freshly grated Parmesan cheese and basil leaves.
Serve this amazing dish
Serve to Marry Me Chicken over cooked fettuccine pasta.
And enjoy the delicious Marry Me Chicken recipe with pasta.
Why Choose Marry Me Chicken Recipe with Pasta?
Tasty Delight: The combination of tender chicken, creamy sauce, and sun-dried tomatoes creates an explosion of flavor in every bite.
Romantic Presentation: This dish is not only delicious but also visually appealing, making it perfect for romantic occasions.
Easy to make: Impress your loved one without spending hours in the kitchen. Marry Me Chicken Recipe with Pasta is very easy to prepare.
Versatile: You can customize this dish by adding your favorite vegetables or adjusting the spice level to your liking.
Perfect for special occasions: Be it an anniversary, Valentine's Day, or a proposal dinner, this dish will definitely make the moment unforgettable.
Read More – Ground Chicken Keto Recipes
Conclusion
Marry Me Chicken Recipe with Pasta is not just a food but it is an expression of love and devotion. Whether you're cooking it for dinner or on a special occasion and want a delicious dish, this recipe will definitely make your loved one say "I do" for seconds.
Now that you know the magic of this dish, why not try it? Spread its aroma in your kitchen and let the taste of Marry Me Chicken take you over.
Read More Also – Shahi Paneer Recipe
FAQs
1. Can I use bone-in chicken for this recipe?
Yes, you can use bone-in chicken, but remember to adjust the cooking time accordingly to ensure it is thoroughly cooked.
2. What can I substitute for heavy cream in sauces?
You can substitute half-and-half or whole milk for the heavy cream, but keep in mind that the sauce may be a little less creamy.
3. Is this dish spicy?
This dish has a mild flavor of red chili flakes but is not overly spicy. You can add spices as per requirement.
4. Can I make this recipe ahead of time?
Although it's best enjoyed fresh, you can prepare the ingredients ahead of time and assemble the dish just before serving.
5. What side dishes go well with Marry Me Chicken with Pasta?
This dish can be served with a simple green salad or garlic to enhance the taste.